Cavenagh Bridge is the only suspension bridge and one of the oldest bridges in Singapore, spanning the lower reaches of the Singapore River in the Downtown Core. Opened in 1870 to commemorate Singapore's new Crown colony of the Straits Settlements status in 1867, it is the oldest bridge in Singapore that exists in its original form.
Originally known as the Edinburgh Bridge to commemorate the visit of the Duke of Edinburgh, its name was changed to Cavenagh Bridge in honour of Major General Orfeur Cavenagh, the last India-appointed Governor of the Straits Settlements, who governed from 1859 to 1867.The coat of arms of the Cavenagh family can still be seen atop the signage at both ends of the bridge.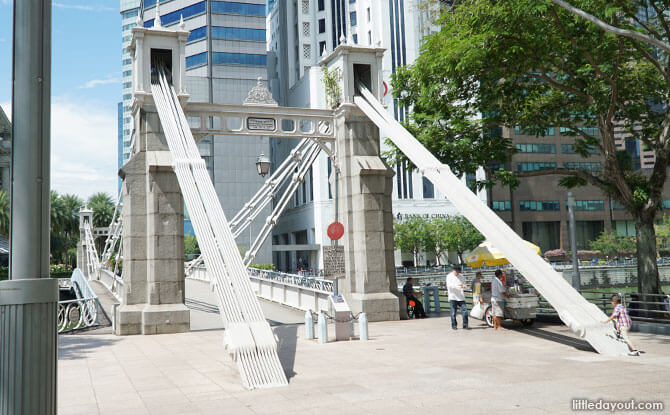 Cavenagh Bridge linked the Civic District on the northern bank to the Commercial District on the southern bank of the Singapore River. Before Cavenagh Bridge was constructed, people could only get to the two districts via a detour over Elgin Bridge or by paying 1 duit (¼ cent) for a boat ride across the river.
This bridge has elaborate suspension struts in comparison with most other suspension bridges, and is the third bridge to be built in Singapore. It was constructed in 1869 to allay the inconvenience of crossing the Singapore River by boat. It was originally designed as a drawbridge but on its completion was found to be suitable only as a fixed structure. Numerous steel rivets were used in its construction, which employed steel casting methods commonly used during that era.
Beautiful scenery all around, the Cavenagh Bridge is the perfect place to go for a walk and enjoy the serenity of the Singapore River. The Cavenagh Bridge is one of the oldest bridges in Singapore; it is also the only suspension bridge in Singapore. Watch the ferries and boats go about below the bridge as you enjoy a walk on the bridge.
Address 1 Fullerton Square, Singapore 049178
Nowadays travel overseas for a brief vacation even throughout the weekends has become a norm in Singapore. Friends and extended families travel to multiple locations. The good news is that we have a tendency to do offer visits at numerous locations with our Xl Maxicab/Combi Service. Look no more, get the phone and book a maxi cab now. Booking is just few clicks away and it is for free. You may reach us via call or sms using this number +65 82 338628 anytime of the day because we have accommodating and friendly operators who are always ready to serve you.
You may also contact us through our maxi cab Hotline and online Booking portal.
When you book with us, we commit to serve you with PUNCTUALITY, HONESTY, and PROFESSIONALISM.