Haw Par Villa – formerly known as the Tiger Balm Garden – is an 8.5-hectare Asian cultural park, the last of its kind in the world. Built in 1937, Singapore's largest outdoor art gallery is the brainchild of Aw Boon Haw, the millionaire philanthropist and marketing extraordinaire who gifted the world Tiger Balm. The eclectic park is a treasure trove of Asian culture, history, philosophy and religion – quirky yet enlightening, at the same time. Since 2015, it is managed by award-winning heritage specialist Journeys Pte Ltd, which has taken on the task of bringing back the park's glory days.
on the signature red brick road, through the majestic entrance archway. Look out for Chinese classics such Journey to the West and the Eight Immortals. Tigers, leopards and dragons lurk in corners. Rolling hills and caves evoke contemplation and reflection. Elsewhere in the park, animals of all shapes and sizes beckon: goats, pandas, rabbits, gorillas, giant lobsters, even a crab-lady, the list goes on. Here – use this map – it will show you the way around the park. Enter the park via the main gate close to the Haw Par Villa MRT Station.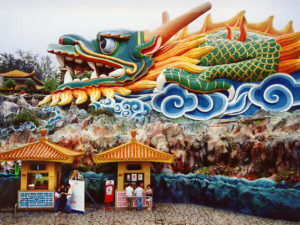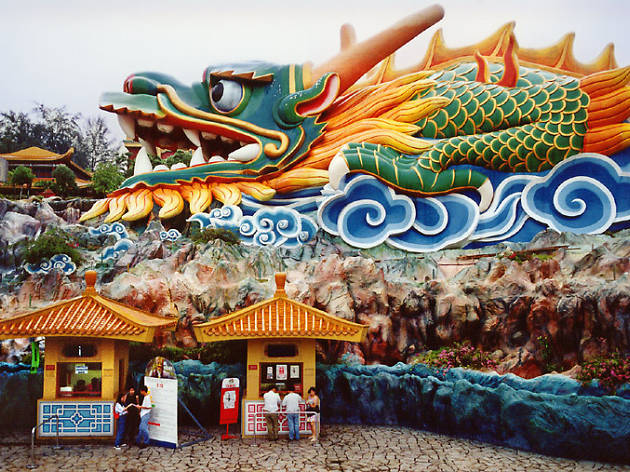 Haw Par Villa is a theme park located along Pasir Panjang Road in Singapore. The park contains over 1,000 statues and 150 giant dioramas depicting scenes from Chinese mythology, folklore, legends, history, and illustrations of various aspects of Confucianism. During the 1970s and 1980s, the park was a major local attraction; it is estimated that the park then welcomed at least 1 million annual visitors and is considered as part of Singapore's cultural heritage.As of 2018, under the park operator Journeys, efforts to revitalise the park are ongoing with the holding of themed events and the planning and construction of ancillary museums.
Haw Par Villa is one of its kind theme park that gives a deep insight into Chinese culture, folklore and mythology. Earlier known as 'Tiger Balm Gardens', the Haw Par Villa has over 100 statues and 150 dioramas that aptly depict Chinese legends and folklore. Featuring statues of characters like Fu Lu Shou, Confucius and the Laughing Buddha, the Haw Par Villa has statues of renowned old Chinese legends. The most interesting exhibit at the park is the 'Ten Courts of Hell' exhibit. This exhibit depicts scenes of punishment and reincarnation that are popular to Buddhist belief.
Opening Closing Time 9 am to 7 pm daily
Entrance Fee Free
Address 262 Pasir Panjang Rd, Singapore 118628