Yueh Hai Ching Temple (Traditional Chinese Simplified Chinese), also known as the Wak Hai Cheng Bio from its Teochew pronunciation, is a Chinese temple in Singapore located in Raffles Place in Singapore's central business district. The temple, whose name literally means "Temple of the Calm Cantonese Sea", was the first stop for Chinese immigrants to Singapore in the early 19th century.
The early history of Yueh Hai Ching temple is obscured. Multiple narratives provide conflicting accounts on the date the temple was first constructed. Some traced the history of the temple to as far back as to 1738. The general consensus is that the temple was first put up in 1820 as a simple wood and attap temple. In 1826, pioneer of Man Say Soon Company, Lim Poon erected a shrine on the same site on Phillip Street with a 999-year lease. It was managed by a board of trustees consisting of 14 members. The shrine was constructed so that sailors sailing between Singapore and China during the 19th century could offer their prayers and gratitude for their safe journey. This is reflected in the temple's name, which translates as "Temple of the Calm Sea Built by the Guadong People". Phillip Street was once near the sea, so that sailors could head to the temple immediately after docking. Due to land reclamation, the temple was effectively distanced from the shore.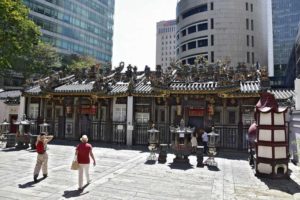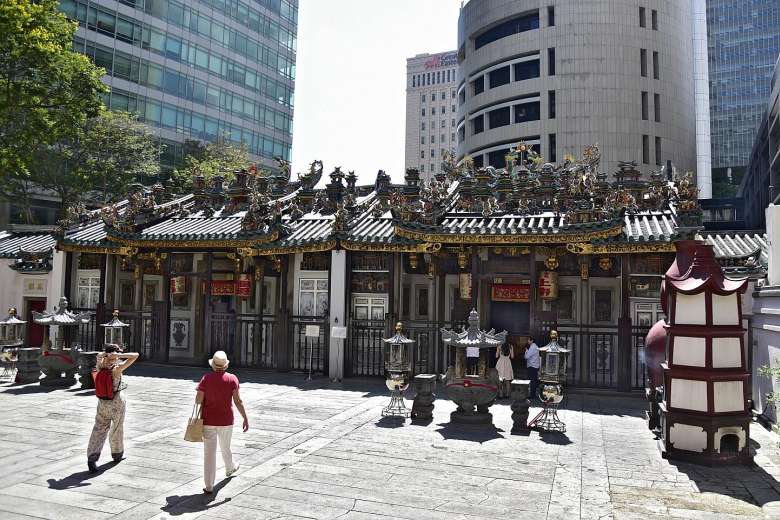 Visit one of the oldest Taoist temples in Singapore, built in the 1820s. It was originally a place where sailors and traders from China used to come and pray for safety from the rough seas. However today lovers come and pray before the black idol, the statue of Yue Lao, the bearded elder matchmaker. Do as the locals would and tie red strings together while praying to the deity of happiness and love to bless your romance.
Opening Closing Time 7:30 am-5:30 pm (Daily)
Entrance Fee Free Entry
Address 30B Phillip St, Singapore 048696
Nowadays travel overseas for a brief vacation even throughout the weekends has become a norm in Singapore. Friends and extended families travel to multiple locations. The good news is that we have a tendency to do offer visits at numerous locations with our Xl Maxicab/Combi Service. Look no more, get the phone and book a maxi cab now. Booking is just few clicks away and it is for free. You may reach us via call or sms using this number +65 82 338628 anytime of the day because we have accommodating and friendly operators who are always ready to serve you.
You may also contact us through our maxi cab Hotline and online Booking portal.
When you book with us, we commit to serve you with PUNCTUALITY, HONESTY, and PROFESSIONALISM.