Thian Hock Keng (literally "Palace of Heavenly Happiness"), also known as the Tianfu Temple, is a temple built for the worship of Mazu ("Ma Cho Po"), a Chinese sea goddess, located in Singapore. It is the oldest and most important temple of the Hokkien (Hoklo) people in the country. Another shrine at the back is Buddhist dedicated to Guanyin, the Mahayana Buddhist bodhisattva of mercy.
Thian Hock Keng was gazetted as a national monument on 6 July 1973.The temple originated as a small joss house first built around 1821–1822 at the waterfront serving the local Hokkien community, where seafarers and immigrants may give thanks to the sea goddess Mazu for a safe sea passage on their arrival to Singapore. The temple is located on Telok Ayer Street and originally faced the sea; the Telok Ayer Street used to be situated along the coastline before land reclamation work began in the 1880s.
The entrance hall has one main door and two side doors, with a high step in front. The side entrances are decorated with coloured tiles with peacocks, roses, and the Buddhist swastika motif that symbolises good luck, eternity and immortality.Guarding the doors are the traditional sentinels of Taoist temple – stone lions and Door Gods.The temple is richly decorated with coloured tiles, red, black and gold lacquered wood, as well as figures of dragons and phoenix, with embellished and gilded beams, brackets, and ceilings.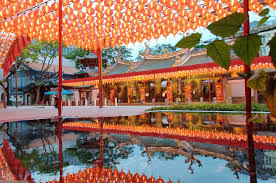 Literally meaning 'temple of heavenly happiness', it's the oldest and most important temple in Singapore. Marvel at the remarkable architecture of the temple, built in traditional Southern Chinese style, with stones, tiles, intricate sculptures and towering columns – all assembled without nails!
Opening Closing Time Daily 7:30 am- 5:30 pm
Entrance Fee Free Entry
Address 158 Telok Ayer St, Singapore 068613
Nowadays travel overseas for a brief vacation even throughout the weekends has become a norm in Singapore. Friends and extended families travel to multiple locations. The good news is that we have a tendency to do offer visits at numerous locations with our Xl Maxicab/Combi Service. Look no more, get the phone and book a maxi cab now. Booking is just few clicks away and it is for free. You may reach us via call or sms using this number +65 82 338628 anytime of the day because we have accommodating and friendly operators who are always ready to serve you.
You may also contact us through our maxi cab Hotline and online Booking portal.
When you book with us, we commit to serve you with PUNCTUALITY, HONESTY, and PROFESSIONALISM.