The Kong Meng San Phor Kark See Monastery (also the Bright Hill Pujue Chan Monastery) , is a Buddhist temple located in Bishan, Singapore.Built by Zhuan Dao in the early 20th century to propagate Buddhism and to provide lodging for monks, this monastery is the largest Buddhist temple in Singapore.
Between 1920 and 1921, the Phor Kark See Monastery was built on the a plot of land in Thomson Road donated by Tay Woo Seng, a Chinese businessmen. It was the first traditional Chinese forest monastery to be built in Singapore. Since Phor Kark See Monastery is situated at Kong Meng San ("Bright Hill", formerly "Hai Nan Mountain"), it has come to be known as "Kong Meng San Phor Kark See Monastery". The original temple consisted of a two-storey building, a shrine room, a visitors' room and living quarters. The Monastery expanded steadily over time as philanthropists like Aw Boon Haw and Aw Boon Par donated funds to the monastery for its expansion.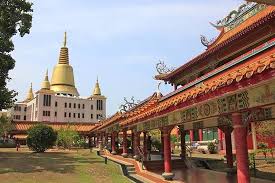 Kong Men San Phor Kark is the biggest temple in Singapore. Dedicated to Lord Buddha, the sacred temple comprises of prayer and meditation halls, a hospice, gardens, and a vegetarian restaurant. The temple also holds the distinction of being the first traditional Chinese forest monastery in Singapore. Hall of Great Compassion, built in Chinese style, holds the distinction of being the largest building in the temple complex. The hall of Great Compassion contains one of the most beautiful Guan Yin images. The temple also has a Pagoda of 10,000 Buddhas; the pagoda has a leviathan Medicine Buddha statue in the main hall.
Opening Closing Time 6 am to 9:30 pm daily
Address 88 Bright Hill Rd, Singapore 574117
Nowadays travel overseas for a brief vacation even throughout the weekends has become a norm in Singapore. Friends and extended families travel to multiple locations. The good news is that we have a tendency to do offer visits at numerous locations with our Xl Maxicab/Combi Service. Look no more, get the phone and book a maxi cab now. Booking is just few clicks away and it is for free. You may reach us via call or sms using this number +65 82 338628 anytime of the day because we have accommodating and friendly operators who are always ready to serve you.
You may also contact us through our maxi cab Hotline and online Booking portal.
When you book with us, we commit to serve you with PUNCTUALITY, HONESTY, and PROFESSIONALISM.