Sri Srinivasa Perumal Temple or Sri Perumal Temple  is one of the oldest temples in Singapore. It is located in Little India within the planning area of Kallang along Serangoon Road, where its tall Gopuram (tower) shows the different incarnations of Lord Vishnu. This large complex, dedicated to Vishnu, dates from 1855, but the 20-metres-tall Gopuram is a relatively recent addition, built in 1966 at a cost of S$300,000. The temple's five-tier Gopuram was a donation from P. Govindasamy Pillai, one of the earliest Indian migrants who made good. He ultimately set up a chain of popular general goods stores in Little India and was known for his philanthropic works, a legacy continued by his sons today.
The area around the Perumal Temple was once filled with ponds and vegetable gardens. A stream used to lead into the temple and was an important source for devotees to ritually cleanse themselves before beginning worship. Inside the temple's inner courtyard, a well marks the spot where the stream used to flow. There is also a Tulasi (basil) plant, the Hindus' symbolic holy bush.
Inside the temple you will find a statue of Perumal, or Vishnu, his consorts Lakshmi and Andal, and his bird-mount, Garuda. Perumal Temple is at the centre of the Hindu trinity made up of Brahma the creator, Vishnu the preserver, and Shiva the destroyer. The temple is dedicated to Krishna, one of the incarnations of Vishnu. Perumal is another name for Krishna and statues of him – coloured blue to signify blue-blood – are everywhere in the temple. There are also statues, Lakshmi and Andal, the goddesses of wealth and beauty respectively, and of his mount, the mythical Garuda bird. The temple ceiling is dominated by a colourful circular pattern depicting the nine planets of the universe.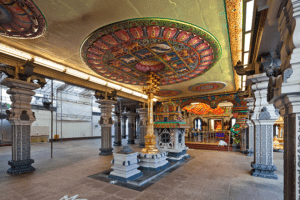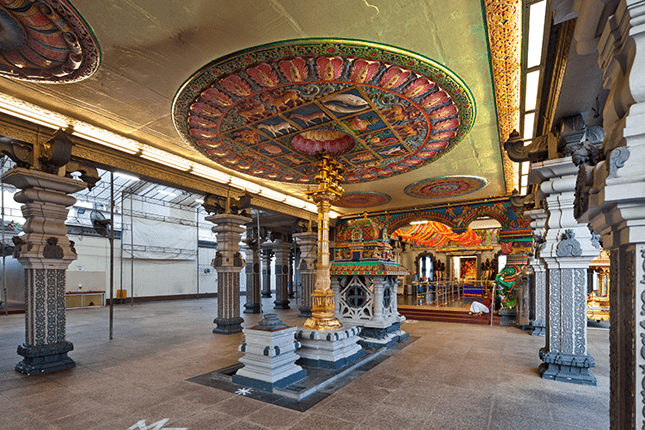 Sri Srinivasa Perumal Temple is considered as one of the oldest temples in Singapore. Located in Little India, the temple is built in the traditional South Indian style of architecture with a tall gopuram. The temple was built in 1855 while the gopuran was added in 1966. The beautiful gopuram has different incarnations of Lord Vishnu. Once you step into the temple, you will come across the scared statues of Perumal (Lord Vishnu), Goddesses Lakshmi and Andal and Lord Vishnu's bird mount Garuda.
Address 397 Serangoon Rd, Singapore 218123
Nowadays travel overseas for a brief vacation even throughout the weekends has become a norm in Singapore. Friends and extended families travel to multiple locations. The good news is that we have a tendency to do offer visits at numerous locations with our Xl Maxicab/Combi Service. Look no more, get the phone and book a maxi cab now. Booking is just few clicks away and it is for free. You may reach us via call or sms using this number +65 82 338628 anytime of the day because we have accommodating and friendly operators who are always ready to serve you.
You may also contact us through our maxi cab Hotline and online Booking portal.
When you book with us, we commit to serve you with PUNCTUALITY, HONESTY, and PROFESSIONALISM.