The Peranakan Museum is a museum in Singapore specialising in Peranakan culture. A sister museum to the Asian Civilisations Museum, it is the first of its kind in the world, that explores Peranakan cultures in Singapore and other former Straits Settlements in Malacca and Penang, and other Peranakan communities in Southeast Asia.It is housed in the Old Tao Nan School building at Armenian Street, which once served as an extended wing to the artefact collection of the Asian Civilisations Museum.
The different galleries are found in the following manner:
Gallery 1 (Level 1)
Galleries 2 – 5 (Level 2)
Galleries 6 – 10 (Level 3)
Special Exhibitions Galleries (Level 3)
Gallery 1 titled Origins provides an introduction to Peranakan culture and to various Peranakan communities in Singapore, Malacca, Penang and Southeast Asia. Visitors to the subsequent rooms will learn about the story of the traditional 12-day Peranakan wedding, where significant ceremonies like the lap chai (exchange of gifts) and chiu thau (coming of age) are presented. Visitors can also see the elaborate wedding chamber and a wedding procession taking place indoors on Level 2. Gallery 6 Nonya, features the arts and crafts of Nonyas like beadwork, along with a display on the Nonya kebaya, and the womenfolks' role of transmitting cultural values to Peranakan children. Gallery 7 shows Religion, on Peranakans and their faiths. Gallery 8 illustrates the commerce, politics and social affairs of prominent Peranakans in Singapore's history in this exhibition titled Public Life. Gallery 9 on Food and Feasting, provides a grand banquet setting with the world's best collection of nonya porcelain. And finally the visual experience concludes with an introspection of modern Peranakans and how they feel about their heritage and the future of their culture in Gallery 10 (Conversations). Additional Special Exhibitions Galleries will feature changing specific-themed exhibitions.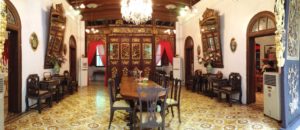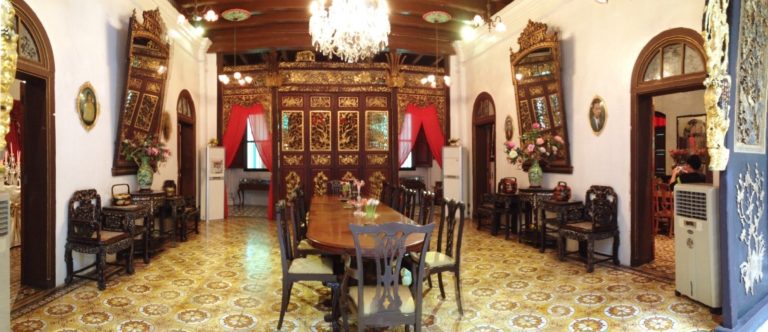 The Peranakan Museum preserves and explores the culture, history and traditions of the Peranakan communities of Singapore, Penang, Malacca and other parts of Southeast Asia. The museum is housed in the former Tao Nan Chinese School and has galleries on three floors that illustrate the unique visual arts of the Peranakans. Gallery 1, titled Origins, introduces you to the Peranakan culture and various Peranakan communities. Gallery 2 to 5, walks you through the traditional 12-day long Peranakan wedding. Gallery 6, titled Nonya, showcases the exemplary art and crafts of the Nonyas. Gallery 7 illustrates the religious faiths and beliefs of the Peranakans. Gallery 8 tells you about the states of commerce and politics in the Peranakan communities. It also tells you about the social affairs and life of prominent Peranakans in Singapore's history. Gallery 9 talks about the food habits of the Peranakans. Gallery 10 discusses the life of modern Peranakans and their thoughts on their heritage and the future of their culture. The most popular artifact in the museum is the Peranakan Wedding Bed which once belonged to Mrs. Quah Hong Chiam of Penang.
Opening Closing Time Saturday to Thursday – 10 am to 7 pm | Fridays – 10 am to 9 pm
Entrance Fee $ 6 per person
Address 39 Armenian Street, Singapore 179941, Singapore
Nowadays travel overseas for a brief vacation even throughout the weekends has become a norm in Singapore. Friends and extended families travel to multiple locations. The good news is that we have a tendency to do offer visits at numerous locations with our Xl Maxicab/Combi Service. Look no more, get the phone and book a maxi cab now. Booking is just few clicks away and it is for free. You may reach us via call or sms using this number +65 82 338628 anytime of the day because we have accommodating and friendly operators who are always ready to serve you.
You may also contact us through our maxi cab Hotline and online Booking portal.
When you book with us, we commit to serve you with PUNCTUALITY, HONESTY, and PROFESSIONALISM.