The Maxi Cab Transport Service gives the facilities to the tourists at F1 Grand Prix in Marina Bay Singapore. Maxi Cab Service facilitates their customers to pick and drop form airport or station to F1 Grand prix or hotels.
Maxi Cab Singapore has been  providing Maxi Cab and Minibus services for many years in Singapore.  We have a large fleet of Maxi Cab and Minibus ranging from 7 seater,9 seater to 13 seater and Toyota Alphard/Vellfire is available 24hrs a day. To make planning your vacation easier, you can book a cab with ease on our website. We provide 24 hours services to our customers and we've been striving to make sure you have a great experience too. We make your journey with full satisfaction which is you need.
Maxi Cab Transport Service offers high quality transport services through a secure online or phone booking system. Demands for Maxi cabs are often high but have no qualms when booking from us.
The advantages we have over other companies are, with a large fleet, we are able to cater to last minute orders all over Singapore. With a response time of 10 minutes island wide, we are the NO.1 choice in Singapore.
We are known as a reliable and trustworthy organisation that is committed in giving our customers the best tour and shuttle services around Singapore. We strive to give our customers the best experience they can get during their stay here as no one knows the city better than we do. Be it Airport transfers, 1 way transfer or Hourly Booking. We are ever ready to provide the best touring services or shuttling services that will have a lasting impact on our customers.
Besides Maxi Cab Services and Minibus bookings, we also strive to be your one stop solution for all your transportation needs. Our limousine service vehicle fleet is large enough to suit your diverse taste or preferred desires and is also able to accommodate various group sizes. Enjoy in luxury with a selected range of cars including Mercedes Benz S and E class, BMW 5 and 7 series, Alphard and the ever popular Vellfire for maximum comfort. Larger group sizes can also select from our wide range of 13,19 and 23 seater minibuses and 45 seater coaches.
We take pride in providing the best drivers there are in ensuring maximum satisfaction in your travel experience.  We assure you that our drivers are well-trained, friendly and most importantly, respectful.
About F1 Grand Prix
The Singapore Grand Prix is a motor race which forms part of the FIA Formula One World Championship. The event takes place on the Marina Bay Street Circuit and was the inaugural night race and first street circuit in Asia designed for Formula One races.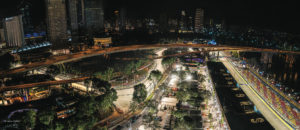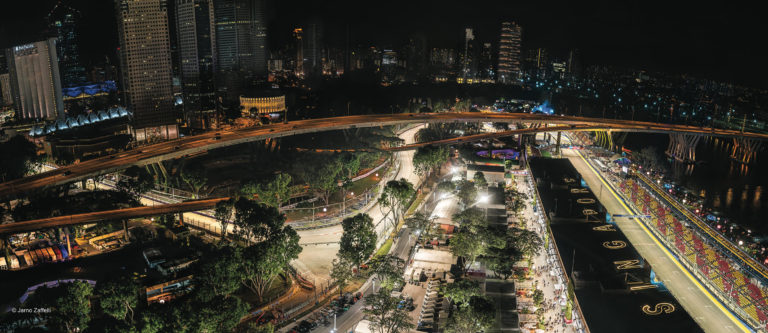 The 2018 FIA Formula One World Championship was the motor racing championship for Formula One cars and the 69th running of the Formula One World Championship. Formula One is recognised by the governing body of international motorsport, the Federation International de l'Automobile (FIA), as the highest class of competition for open-wheel racing cars. Drivers and teams competed in twenty-one Grand's Prix for the World Drivers' and World Constructors' championship titles.
In 2018, the championship saw the introduction of a new cockpit protection device, known as the "halo". The introduction of the halo was the first stage of a planned rollout that would see the device adopted in all FIA-sanctioned open wheel series by 2020.
Over the three days, the Singapore Grand Prix features other big international acts including British soul and pop band Simply Red, old-school hip-hop group The Sugarhill Gang, tribute band Bjorn Again, and Scottish trio Young Fathers. A host of Singaporean acts will also ply their trade that weekend: check out vintage pop artist Miss Lou, the soulful Matteblacc, and mad moshing groups Eatmepoptart and Emonightsg.
Lewis Hamilton and Mercedes peeled Sebastian Vettel and Ferrari apart again in the Singapore Formula 1 Grand Prix, just as at Monza. In terms of the championship, it's difficult to see how the Scuderia and Vettel come back from a psychological blow such as this.
Once Hamilton had capitalised on the collapsing Ferrari with a sensational pole in qualifying – and Max Verstappen had pulled off an equally stunning lap to qualify second – the race was his to lose, and he guarded against that with a drive of technical perfection and control.
Lewis Hamilton won the Singapore Grand Prix with a conservative one-stop strategy to stretch his championship lead over Sebastian Vettel to 40 points, but while the Briton's lead was never really threatened, the Mercedes car arguably should never have been so comfortably positioned at the head of the field. Hamilton's tyre management was only the second half of Mercedes efforts to undermine Ferrari's attempted to revive its rapidly flagging title hopes; qualifying was the real key to owning the Marina Bay streets.
Vettel remains convinced that Ferrari had the pace to have qualified on pole – and the form of the cars through the practice sessions and the early part of qualifying suggests that was the case. "I came into the weekend saying we could only beat ourselves," said Vettel, "and…"
And Ferrari beat itself. That beating was essentially inflicted on Saturday evening with an extremely messy, somewhat nervy, performance from team and driver.
Had Verstappen not suffered a software-induced misfire near the end of his final qualifying lap there's every chance he could have qualified on pole. And from there the potential to control the race was very clear, given that the hyper soft and ultra soft combination of tyre compounds made this very much a tyre management race run a long way off the pace and where track position trumped all.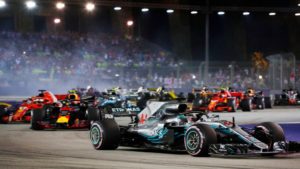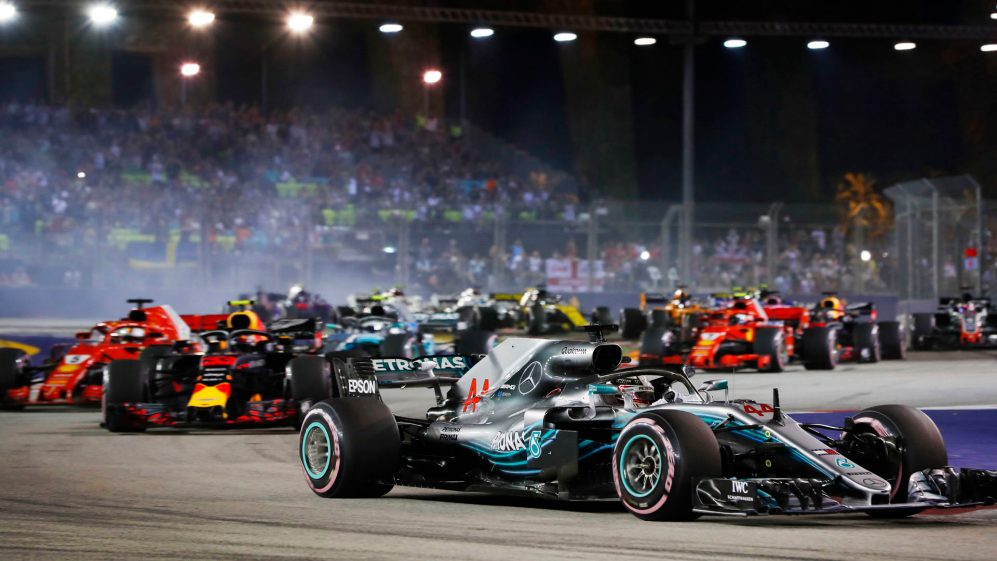 So both Ferrari/Vettel and Red Bull/Verstappen could have taken pole – and therefore the victory. But Mercedes/Hamilton did. And they now lead both championships by a handy margin. Given that they are consistently winning even on tracks that suit them least and that their surety of operations is of a different order to that of their rival, it feels like the momentum is verging on overwhelming.
Ferrari fought as best it could on Sunday to correct what had gone wrong on Saturday, Vettel putting a committed first lap move on Verstappen to take up second place – and the team then doing the only thing it could if it was to have a chance of the win: attempting an aggressively early undercut on Hamilton. But that was foiled by how long it took Vettel to get past Sergio Pérez's Force India upon rejoining the track, something that not only failed to gain it the lead, but lost second place to the tenacious Verstappen.
Pérez played something of a leading role in the race – but not in a good way. After taking out team-mate Esteban Ocon on the opening lap, he later let his frustration at being stuck behind Sergey Sirotkin's very slow Williams get the better of him with an outrageous piece of wheeled assault for which he rightfully received a penalty. Fernando Alonso gave McLaren its first 'class B' victory since Australia after a composed drive that maximised the tyre strategy advantage his qualifying 11th had gifted him on a weekend when that carried extra weight.
Spaniard Fernando Alonso won the first Formula One edition of the Grand Prix, driving for the Renault team amid controversial circumstances, when it emerged a year later that his teammate Nelson Piquet Jr. had been ordered to crash on purpose by senior team management to bring out the safety car at a time chosen to benefit Alonso. The Singapore Grand Prix will remain on the F1 calendar until at least 2021, after race organizers signed a contract extension with Formula One Management on the first day of the 2017 event. The previous contract extension was signed in 2012 and lasted until 2017.Since 2008, every race edition has featured at least one safety car, a total of 18 safety car deployments, as of 2018.
All Grandstands at the Singapore Grand Prix have at least one large TV screen where you can follow the on-track action. For the majority of grandstands at Singapore, we advise choosing a seat in the highest possible row (generally 12 and above) to get a better view of the circuit above the catch fencing. This advice is not valid for Bay Grandstand, where it's a good idea to not be too high, more on this below.
Satisfy your need for speed and attend FORMULA 1 SINGAPORE AIRLINES SINGAPORE GRAND PRIX 2019! This 3-day event has been attracting hundreds of thousands of visitors every year and its 12th edition will be no different. Witness top racers all over the world put the pedal to the metal with speed as fast as 325km/h, at the state-of-the-art Marina Bay Street Circuit! After the adrenaline-pumping competition, don't leave just yet and see some of the finest local and international artists perform after each racing day. Some of Singapore Grand Prix's entertainment line-up this year will include Gwen Stefani, Muse, Swedish House Mafia, Hans Zimmer, and more! Book your tickets via Klook and choose from a variety of packages that will give you access to the circuit's best seats.
Was it really this time last year that Lewis Hamilton cruised to victory in the Singapore Formula One Grand Prix? Yup, I guess so. Well this year, the twelfth edition of the night race is back and is bigger than ever (quite literally, think over 260,000 people). Yikes.
Headlining on the opening night is Grammy award-winning Swedish House Mafia; who last performed in Singapore at the 2013 Grand Prix. The electric dance trio, will be joined by 'Holla back Girl' and 'The Sweet Escape' singer Gwen Stefani plus rock legends Muse and Red Hot Chilli Peppers; who will all take the stage on the second night. Not forgetting DJ Fat boy Slim, who's set will be on both Saturday and Sunday night work on Monday should be fun.
Singapore F1 accelerates to the finish line
AS it gets closer to Sept 20, excitement escalates to a fevered pitch for the titular Formula 1 Singapore Airlines Singapore Grand Prix 2019 held at the specially built Marina Bay Street Circuit.
Once again, the world's finest drivers are set to rev their engines with speeds of up to 325km/h, in the 5.063km racing circuit built around Singapore's Marina Bay.
Since 2008, ever since it hosted the first event, Singapore Grand Prix stands out as a unique experience for F1 spectators and enthusiasts with the race circuit being held on the streets of Singapore itself.
Another standout fact is that it offers one of the longest pit lanes on the F1 calendar, all 404 metres. Drivers will be doing 61 laps along the total track length of just over 5km with about 23 corners and a racing distance of over 308km.
The Formula 1 race will see 20 drivers from 10 teams go head-to-head. The fact that the circuit runs around the city poses challenges that will undoubtedly test the drivers' mettle. A combination of factors, from the circuit's bumpiness and heavy braking zones, to the use of artificial lighting as opposed to daylight and humidity, all combine to push contestants to rely on their experience and skills.
In the past six years, the four drivers who won at the Singapore Grand Prix went on to win the coveted World Championship.
The Marina Bay Street Circuit was designed to follow harbour-side circuits such as the Circuit de Monaco or the Valencia Street Circuit and was designed by American engineering and construction company KBR, Inc – a modification of the initial proposal by German racing driver and circuit designer Hermann Tilke.
When construction starts each season in May, all race-related infrastructure, which include the barriers, fences, cables, track lighting and more, is transported in from a 38,130sq m storage facility in east of Singapore. As the infrastructure takes shape around the circuit in preceding months, nine grandstands and corporate hospitality facilities to accommodate 86,000 daily spectators take form.
Around 1,600 lighting projectors are carefully positioned around the track to give the world's best drivers better focus when they course through the tracks, producing minimal glare or reflections from a wet surface or spray from other cars.
In just mere weeks before the opening, other peripheral constructs get added on, from entertainment stages to tents for merchandise and food and beverage outlets. The Formula 1 Paddock Club, Sky Suites, The Green Room and Twenty3 are all being fitted out ready for the caterers to deliver a five-star experience. The week before the race, around 700 tonnes of F1 equipment arrives in the pit-lane – comprising air cargo from the teams, including the all-important cars.
Your guide to buying tickets for the 2019 Singapore Grand Prix on September 20-22, including the best grandstands.
No matter which grandstand (or walkabout ticket) you choose, you won't get a view of much more than the section of track directly in front of you. That's the nature of a street circuit, but the thrill of F1 action under lights and the amazing backdrop of the Singapore skyline by night go a long way to compensating for this. Add to this the vibrant trackside atmosphere and daily concerts by some big name acts, and you have the recipe for a unique F1 experience. The Singapore Grand Prix is an immensely popular sporting event, drawing both locals and up to 40 000 tourists to Marina Bay each September.
FORMULA 1 SINGAPORE AIRLINES SINGAPORE GRAND PRIX 2019 has been setting the stage for one of the highlights of the Formula One calendar, earning it the title of "the jewel in the Formula One crown". Come September 2019, Singapore will once again raise the bar to create another memorable Formula One event. Multi award-winning, multi-platinum winning bands are set to ignite the Padang stage in Singapore each night. Entry to the concert is included with any three-day admission ticket.
Are you looking forward to hearing the roar of the engines beneath your feet at the Bay Grandstand? Or would you rather enjoy the superb views from the Padang Grandstand? Whatever ticket category you choose, adrenaline-pumped memories are ensured! Just as many were worried that it would be Singapore's last year to host the pinnacle of motorsport; Formula One has announced that the Singapore Grand Prix will be part of the calendar until 2021.
The Singapore Grand Prix is without a doubt one of the most thrilling events of the year, seeing as the very best drivers compete for the top spot on the podium. F1's first night race is widely regarded as the greatest modern addition to the racing scene. The live event has become a firm favourite amongst racing fanatics with twisting four angled turns and longer race time. At Stub Hub you can find the F1 Singapore tickets you're looking for, this way making sure you don't miss out on one of the most renowned sporting events in Singapore!
Dates with Event.
20 September Friday (Practice)
21 September Saturday (Qualifying)
22 September Sunday (Race)
Location:
Marina Bay Singapore City, Singapore.
It's going to be one event you, and more importantly, your VIP guests, will definitely remember for years to come.